Are wind deflectors worth it? We recently went through the best wind deflectors and discussed whether they are worth it. If you want to unlock an entirely new level of comfort, you need to give these a closer look.
Side window deflectors are easy to install, and they cost surprisingly little. Once installed, they let you cool the car with the windows down while keeping the wind out of your face.
They keep the rain out of your window, allowing you to drive with open windows in the rain and to enjoy the fresh air. They also let you leave your windows cracked when parked in the summer to create a little airflow without showing the thieves that your window is opened.
There are several window deflector brands to choose from. And something for every price point.
The options are quite simple but can be overwhelming if you don't understand the options. Just review our buying guide.
In a hurry? Just enter your year and type of car, and it should bring up the correct type. Weathertech is one of the highest-quality brands to buy. When you add accessories to your car, you don't want them to bring down the value of your vehicle. In my opinion, Weathertech is the best brand for preserving the value of your vehicle.
Best Side Window Deflectors
Window deflectors let you have more ventilation on a rainy day as well as when your car is parked on a hot one. The best window deflectors are going to have a factory appearance, and blend in with the trim of your car.
A lot of the sites discuss the "top 10" or "top 12" visors. In my opinion, I think there are just a few that have proven the test of time and have a good track record.
The last thing you want is a visor that comes loose and bangs on the side of your car.
Here are the window deflectors that I feel are the best. If I haven't linked to your model, there is likely a drop-down box that will let you choose your car (or you can search the brand name of the visor with your car brand).
WeatherTech Wind Deflectors
Founded in 1989, WeatherTech gained a reputation for their made in America rubber mats.
They've expanded to other auto accessories, creating one-stop shopping for those who want the best-quality, aftermarket products for their cars.
Their side window deflectors continue to carry the high standard that we have come to expect from their weatherproof flooring with it's sleek, aerodynamic design and DIY installation.
Weathertech side window deflectors go in the window channel. A lot of folks prefer this as you don't have to work as hard to get it to line up properly.
Simply slip the front and rear in. Then work your way through, twisting it and slipping it into the window channel. They have a low profile design that looks like it might be an OEM product. The rear window deflectors have a little bit of adhesive to get a more secure fit.
After installation, you leave the window up for 12 hours. This seats the window deflector into place, creating a firm seal.
You spend a little more for Weathertech, but they are designed with razor-thin edges to fit the tightest tolerances.
When you go with Weathertech, the only response you'll have is, "I wish I had done this sooner."
Auto Ventshade Tape On Ventvisor Window Deflectors
Most of the brands that we review here create excellent window deflectors. However, it isn't the primary focus of that company.
With the Auto Ventshade brand, you are getting a line of window deflectors that is the company's primary line of business. In fact, they sell the original Ventvisor.
This raises the stakes: if they don't make a good quality side window deflector, they aren't going to stay in business.
It also means that they tend to have more variety. If you want to add extra-wide visors to your Toyota CJ for off-roading, they are going to be the company to go to.
My favorite is their line of tape-on wind visors. This is easy to install and doesn't require you to fight with the window channel or deal with rattling noises as the window vibrates off of the visor.
If you later decide that you want to add a visor for your sunroof, you can always come back to them and get a matching one. They also make in-channel Ventvisors if you want to go with that. If Weathertech is too expensive for your taste, you can go with the Ventvisor window deflectors won't notice a difference.
Finally, I feel that for the quality, they offer some of the most competitive pricing.
Putco Element Tinted In-Channel Side Window Visor
Putco is another in-channel window visor option.
The quality of these acrylic visors is on par with the rest. However, it seems like the fit might be a little less accurate than some of the other brands that we have already talked about. Some of those concerns come from people not choosing the correct option for their truck. The button above will take you to one of their sizing forms so you can make sure to get the right one for your truck's options.
This is handy if you have a crew cab or extended cab and can't find the right one from other brands.
Where a lot of people like Putco is for their chrome-looking finish. If you want a visor that adds some flash to your truck, these might be a better option to consider.
Rugged Ridge Window Visors For Jeeps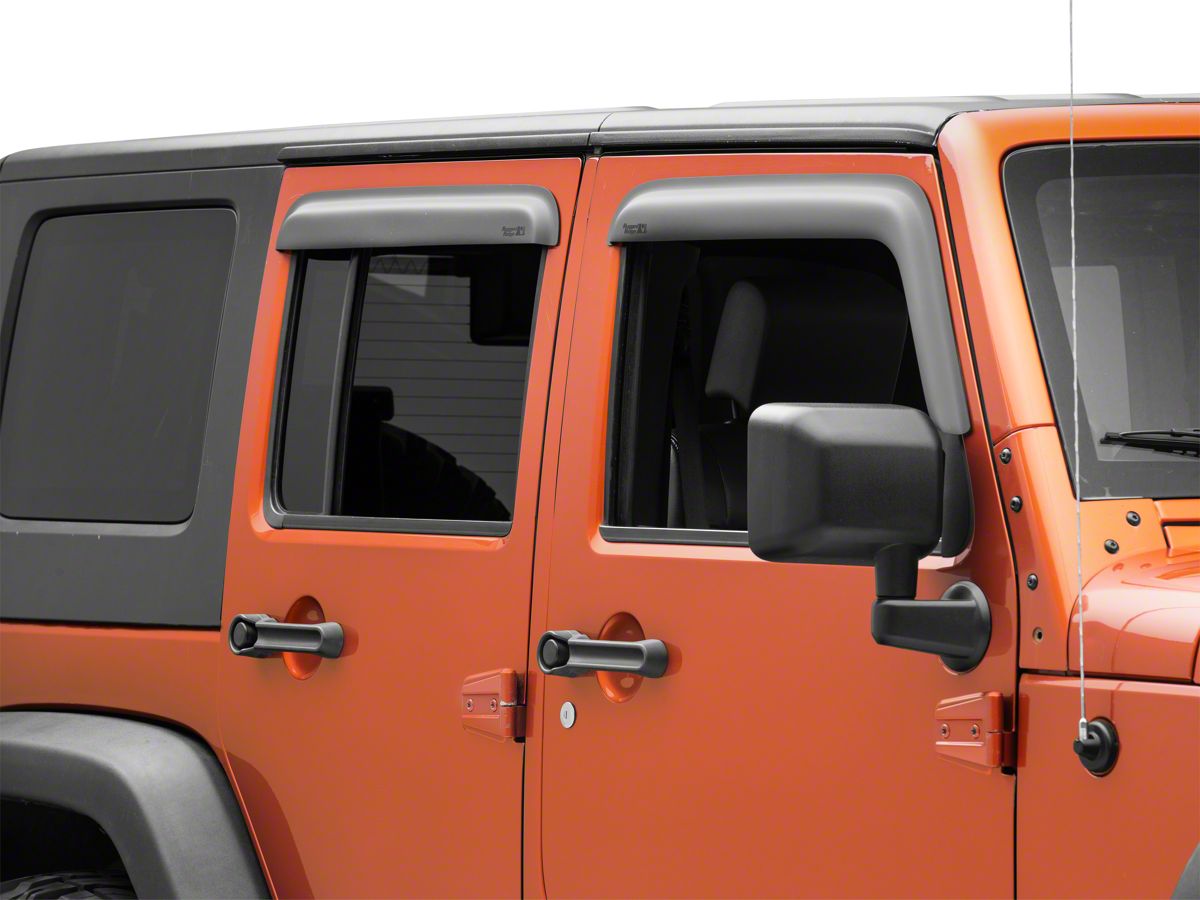 People want a good window deflector for the new Jeep Gladiators.
This Rugged Ridge visor is filling the gap like none of the other brands do. It is designed specifically to fit Jeeps.
What I like about these window deflectors is that they are a little blockier in shape and they look exceptionally good on a jeep without being over-the-top.
These are taped on and keep the water off of the window well. You get less wind noise, and excellent rain deflection for driving with the windows cracked in the rain.
They also provide a little more protection when driving off-road.
With a five year warranty, these offer all of the ruggedness that you could want for your Jeep Wrangler or Jeep Gladiator.
Lund VentVisor Elite Window Deflectors
If you don't already have shoppers overwhelm, Lund is one of those under-rated brands.
This is an in-channel model that uses some 3M tape to help secure it inside the window.
There are a couple of things that make Lund a strong consideration. For starters, their brand tends to be a little less expensive since they haven't yet built the household brand name recognition.
Secondly, they have a lifetime warranty on their Made in USA wind deflectors.
Lund seems to be trying to raise the bar when it comes to creating a thicker, stronger visor.
Stampede Sidewind Deflector
Stampede brings a high-quality visor. Using 3M tape to secure it, above your window, you can easily install them and get a carwash safe wind deflector in minutes.
Their scratch-resistant design has a lot of folks going with the Stampede brand. They don't make them for every vehicle, but if you have a GMC or Ford F-150, they should have a good fit for yours.
A couple of points that make this one a better pick. For one, they have a good low profile look. Secondly, the drip edge helps wick rainwater away from you, for when you open your car has been rained on.
With so many in-channel products, this tape-on model is a favorite option, especially among truck owners.
Autex Window Visor Deflector
One more excellent tape-on wind deflector for those who want to reduce wind noise and glare.
If you've never enjoyed a car with visors before, you'll appreciate how much more relaxed the driving process is with side window wind deflectors installed. They provide that extra bit of sun shading and privacy that makes your vehicle a little bit of a sanctuary.
These rain deflectors go on quickly and let you roll the window slightly to keep the windows from fogging.
The high-quality acrylic is thicker than most at 3.82 mm thick.
The four-piece set goes on easily. This one is a little wider and more noticeable. If you want a kit that stands out more than some of the other brands, this one provides that wider coverage for extra protection.
In-Channel Vs. Tape-On: Which is Best?
There are advantages and disadvantages to both. In my opinion, it has more to do with the build quality. A good in-channel visor is the best option compared to a poorly made tape-on one.
In-Channel
Tighter fit: You'll want to buy a brand that has a reputation for a good fit as it has to fit the car perfectly.
No Tape to the finish: If you are worried about the finish of your car, this is a better choice
Scratching Window: Cheap in-channel deflectors have had the problem of scratching the car's window as it rolls up and down.
Tape-on
Better Rain Deflection: they go on outside of the window channel, which helps it push the rain further away from the window.
No Window Contact: While they go on the finish of the car, they don't come into contact with the window.
Difficult to remove: anytime you apply something to the surface, there is that risk that it can damage the clear coat. When removing, go slowly and use a gentle citrus-based cleaner to remove the residue.