Whether you are a homeowner who is looking to save some money by ripping off their old roof, or an experienced roofer who is wanting to upgrade his tools, I took some time to sort out some of the best shingle removal tools on the market.
Investing in a dedicated shingle remover will make the roof tear off, go much faster, and help save your back in the process.
Roofing continues to be one of the most lucrative industries, with business owners taking a 6% average net profit margin. And Sub-contractors don't make out so poorly either. Since Subs are typically paid per piece, having the right tools will let them get the job faster and help them get to the next project.
Homeowners shouldn't be cheap about their hand tools, either. A typical roof replacement runs in the thousands, so if a homeowner spends extra on a useful tool, they are still saving a lot of money in the long run.
Removing old shingles is hard on the hands. Keep your hands loose as you are pushing the ripper down the roof, so it doesn't jar your hands when you hit a nail. Let the weight of the ripper do most of the work. And upgrade your gloves from those thin cotton ones to some leather ones with more protection.
Best Tear Off Tools
Shingle Eater 6126 Shingle Stripper
This article would be doing you a disservice if we didn't mention the shingle eater. Most of these tools feel like a "first attempt" at making an efficient shingle ripper. With the Shingle Eater, you can tell that they went back to the drawing board a few times to make it the best tool on the market.
The reason that a lot of roofers like using a shovel or pitchfork for the tear-off is that it can reach underneath the shingles and allow you to pry up a huge swath of them. The Shingle Eater uses that same principle and offers a longer "duckbill" that slides deeply under the shingles and lets you pry up a large, continuous chunk of them at once.
Thanks to the ten heat-tempered teeth, you get a better grip on the nails and can lift them out with the shingles, which saves you time over having to come back through and clean up the little nails that otherwise get left behind.
There is a nail remover on the backside of the tool so you can easily pry up those stubborn nails.
The handle is also longer than the others on this list. At 55 inches, it provides excellent, deep, leverage. It is part crowbar, part roofing shovel, giving you heavy-duty performance that is unmatched in the other tools.
The Shingle Eater doesn't have as many bells and whistles as some of the other tools on the list. For example. It isn't "adjustable" and doesn't have the "replaceable blades" of the Malco Beast reviewed below. However, the fixed head provides one less point of failure, which is handy if you are doing a hundred roofs a year.
However, you don't need any of these features. What you need is a powerful tool that will let you move a massive amount of shingles in the least amount of time with the least amount of effort. This might be the only tool that does that.
You might pick up the Shingle Eater Junior or the Malco for doing work at the bottom of the roof, where the longer handle works against you slightly. But, overall, this is going to be the fastest shingle removal tool.
This one is also great for removing multiple layers of shingles where you have to pull out more nails.
This one is made in the USA and backed by a 1-year warranty.
Red Ripper Tear Off Tool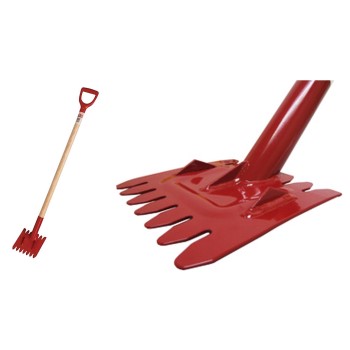 Another strong contender for the top spot is this the Red Ripper. You will notice that it looks dramatically different from the other models. This difference causes a lot of folks to skip it.
However, it might be one of the best removers out there for shingles.
The Red Ripper focuses on it's prying motion to remove the staples or nails holding the asphalt shingles in place. Slip it under, rock it back, scoot it over, rock it back. With a lot of these tools, you are forcing it downwards, and the process is hard on your hands. Since the red ripper has more of a rocking motion to it, you find shingle removal to be faster and easier on your hands.
The Red Ripper is a tool ahead of its time and we'll be seeing a lot more of these tools joining the teams of roofing crews across the country.
Malco SB48AE The Beast Roof Shingle Removal Tool
This 48-inch long behemoth is destined to re-invent the roofing process with its roofing shovel design. Lightweight, thanks to the heavy-duty fiberglass handle, it goes up the ladder with ease. However, once you are on the roof, it is clear that this tool means business. (At 9 pounds, it isn't the lightest tool out there, but it makes up for the weight in ergonomics).
The steel handle and head are fully adjustable. This makes it easy to get it adjusted to your height to get it to the right position to alleviate back pain. Less back pain means more work done! The adjustable head has three different angles, which means you can adjust it for the most leverage on any roof pitch.
This adjustability is super handy on a steep-pitched roof as you'll probably want to sit down while you work for better security and leverage. With the other tools that are designed for upright use, your shoulders get pretty sore if you lift the tool high enough while in a seated position. With the Malco, you simply adjust it to the right angle, sit down, and get to work.
It lifts off the shingles cleanly, and the teeth are perfectly designed to grab nail heads and pull them out. One of the best things is that teeth hold the nail heads so you can dump them in a bucket instead of on the ground. This makes cleanup much faster when you are done with the job.
The ten-gauge temper steel blade is designed to be abused. Once it is worn out, you simply dispose of and replace the blade.
It's really good at getting underneath the edge of the shingle.
This one is heavier than the really cheap models that most roofers use. Most of these young guys are used to using small, light, back-breaking little sticks to pull the shingles off. What the tool lack in leverage, they make up for in strength.
So it tends to be a hit-and-miss choice for professional roofers.
However, homeowners love this tool. Standing on the rooftop watching the shingles peel away gives you a new feeling of confidence.
Qualcraft 54-Inch Remover
This one is pretty awesome both in it's longer handle and in the unique curve that they worked into the device. This shape and length enable you to get a good grip on the shingles from a more upright position than you normally would. This can be especially helpful for folks doing a standard roof removal on a moderate pitch.
This is an all-steel tool. While this gives you a solid feel and a lot of momentum as you are pushing the shingles off the roof, it can be more tiring on the arms. It also isn't the highest grade of steel, which is something professionals might be looking for. Also, the fixed angle isn't right for every roof. The young roofers who work for you won't mind, but DIY homeowners will be thankful they paid more for an adjustable model.
As with the other models, you have a heat-tempered working edge to keep the teeth from getting beat up as you work. It also has a nail puller built-in behind the teeth that you can use for pulling stubborn nails. This is handy as the teeth are thicker than most of the other models on this list (probably for durability), and it makes it harder to get them underneath the nails.
You'll notice that this shingle stripper looks a lot like the Shingle Eater reviewed a little earlier. For the price, the Qualcraft provides an excellent challenger, especially if you are just removing standard roofing materials.
This could be an excellent option if you are trying to outfit your entire roofing crew and need to buy a few of them.
Bully Tools 91110 10-Gauge ProShingle
The Bully Tools is another strong contender for this list. At only 5 pounds, it gives you that "I could carry this in my teeth" pirate feeling when you are ascending to the roof.
A 100% American made device; this is the tool that a lot of high-end roofing companies choose to get the job done. The no-break polypropylene D-handle feels great in your hand, and the non-slip texture helps you keep a decent grip even when your hands are sweating.
As with the Malco above, this one comes in super handy when you have a lot of nails to remove. It's part shovel, part nail puller, and will let you get through the task pretty quickly.
While it isn't expressly designed for this, the triple-walled heavy-duty fiberglass handle makes it durable enough for removing linoleum and other floorings. It might shorten the tools life, but the Bully Tools has picked up a side-job doing a lot of floor work.
HDX Shingle Remover
This cheap little tool tends to get overlooked but seems to be a solid option. It has the tempered teeth that the other tools offer, and is designed for all-day use tearing off shingles and roofing nails.
The 47.5 inches long handle is on par with the other tools on this list, and the D-shape handle gives you plenty of leverage. If you want a basic scraper that you can hand to the kiddos so you can tear off a roof in one weekend, this is the one. There isn't much adjustability to it or any bells and whistles. However, it seems to have the durability you need for a long day of work.
Additionally, the thin teeth hold up well to use but still slip nicely underneath the nails so that they pull out quickly and easily.
Dasco 640 Pry Bar
If you are re-roofing a house, you definitely want to invest in a small pry bar. A lot of roofs have been torn off with nothing but a trusty pry bar. However, the narrow tip makes it much slower than using a dedicated tool or a shovel.
This one is perfect for getting a line started. The shark tip is shaped perfectly for slipping under the nail head. Then you just pry up and life the nail head u so you can release the old shingle.
The Dasco is also nice for those moments where you need to remove a few damaged shingles without hurting the surrounding ones. You can get in there and do the surgical removal of a few shingles. This is also handy during the re-roofing process for undoing a mistake.
Cedar tiles can be hard to get started, and the Dasco pry bar is just the tool for that.
While you won't use this tool for the entire job, you will need to have one on hand for the problems that arise as you are doing the roofing job.
In Conclusion…
Everyone is going to have their favorite tool and process. Top to bottom. Side to Side. Bottom to top. There are many different ways to remove a roof. Whatever method you choose, you will need a good hand tool to get the job done.