Fuel caddies are important for used fuel handling when draining gas tanks prior to servicing the fuel pump or a damaged tank. A gas caddy is a fuel tank that is attached to a hand pump or electric pump. They make it easy to siphon gas out of a tank and store it until you are ready to put it back into another tank.
When it comes time to drop a gas tank for replacing the fuel pump or to weld a leak, you've got to remove all of the fuel. You need a tank you can siphon the fuel into and pump it back out of when the job is over.
Additionally, there are a lot of situations on that farm or at the marina where you need a gas caddy. You can use it to carry diesel fuel to a tractor that is doing a hard push to get the crop in before the rain hits. Or, you can use it to wheel some fuel to your boat that is parked at the marina.
If you are going to use it once, you'll use it a dozen times.
Fuel has a short shelf life and goes bad in a matter of weeks. When you are done using your mower or boat or tractor at the end of the season, you can pump the fuel out of it and put that fuel in another vehicle, so it doesn't go to waste.
HMC 30-Gallon Gas Caddy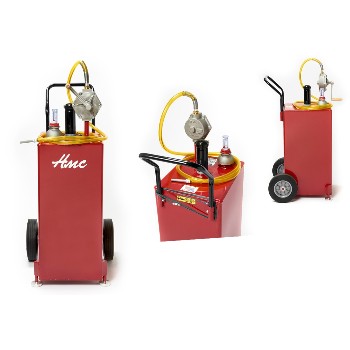 The HMC caddy is sometimes considered the gold standard when it comes to heavy-duty fuel caddies. The rectangle design is perfect for staying balanced at all times, and the large, 10-inch solid rubber tires with hand truck styled handle makes it easy to wheel around even when fully loaded. They even let you wheel it across grass or gravel.
The 14-gauge steel construction is perfect for all types of gasoline, including E85 and mixed fuels. It also protects the fuel in a shop where bumps and bangs can occur.
There are a couple of added safety features on this model. The first one is a vent that is designed to not spill. This patented vent design comes in handy when you have the new guy moving the caddy around. This dome vent also has a flame arrestor screen for additional protection should there be a fire somewhere else in the shop that might try to light the gas (unsealed hot water tank, anyone?).
The other neat feature is the bi-directional pump. At 75 revolutions per minute, it delivers a 6 GPM fuel transfer. This lets you empty a full SUV tank in about 5 minutes.
Located in Iowa, this tank is one of the most American you can find. The pump is imported, but the tank itself is made in America.
Arksen 35-Gallon Gas Caddy
The Arksen is a well-made machine for when you want a cheaper option. Information on their company is harder to find, and you don't have the long track record that HMC offers.
However, if you are the type of shop that runs through a couple of these every year, you won't mind saving the money on a cheaper model.
Available in red or black to differentiate between gasoline and diesel or mixed fuels, this caddy is very straight forward.
The 35-gallon tank gives you enough space to fill up a couple of vehicles. It would be an excellent option for putting on your mowing trailer for topping off the mowers.
The 2-way rotary pump both fills or siphons, depending on your need. This pump could use an upgrade.
Longevity on it seems to be in question, and it isn't the fastest. With the money you save on this model, you might go ahead and invest in a backup pump upgrade.
The large wheels work great for rolling it through the grass.
Frankly, there are going to be some light-duty shops where this one will be an appropriate choice. When you count in the lost hours and the time spent fixing potentially leaky pumps, the HMC looks much more attractive.
HMC Mixed Fluids Caddy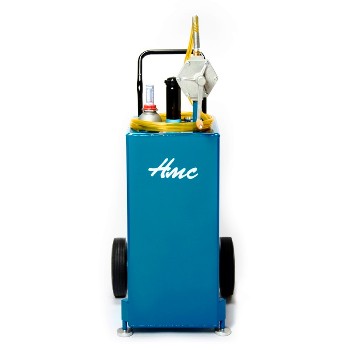 If you liked the HMS gas caddy above but need one for other solvents such as kerosene or hydraulic fluid, this is the caddy to look at.
This one is very similar to the above model. It has the 10-inch wheels that make it easy to move it around, and the special, dome-shaped vent to keep it from leaking.
The pump transfer speed is about half the speed as it is on the Gasoline model, with it delivering 1 gallon per 20 revolutions. This would give you about a 3 GPM flow.
The lower pump speed comes in handy when pumping liquid with a higher viscosity.
A lot of manufacturing facilities use it for transferring coolants between pieces of equipment or for draining antifreeze when it comes time to change it.
JohnDow Fuel Chief 25-Gallon Gas Caddy
A lot of folks have tried the Duramax below, but they want a more durable portable gas caddy.
This model from JohnDow is the perfect option.
With 10-inch pneumatic tires, it floats over grass and gravel, making it perfect for filling up the ATV or snowmobile.
It offers 25-gallons of fuel storage with an all-metal gas handle for pumping the fuel back out.
There is no pump on this model, so you'll need to have it somewhere that gravity can do the job. Leave it in the back of your truck for filling up an endless stream of small engines.
Duramax Flo n' Go Rolling Gas Can
I like the Duramax for its simplicity.
Designed from a resin/rubber composite, this tank is super durable. It's perfect for the high-paced shop where you need a couple of these to wheel around between jobs.
There is no pump on this model. It is simply a large tank with a hose attached to it.
When it is time to get the gas out of it, you'll need to find a way to lift it higher than the gas handle. Open the shut-off valve hidden near the base and the fuel flows.
It's handy for fueling ATVs and boats.
Fuel Transfer Pump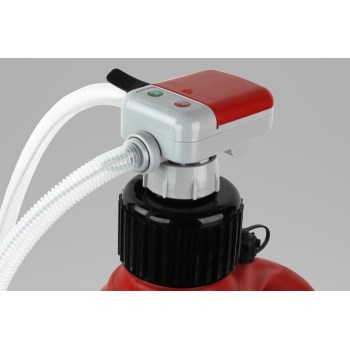 You can use your gas can as a fuel caddy. I've done this before on gas pump changes. Simply pull enough gas out so that you can lower the tank down using a hydraulic jack.
A great option for this is a battery-operated gasoline transfer pump.
This pump connects to your gas can and provides a push-button, spark-free, leak-free way to safely transfer the fuel.
Simply press the on button and wait for the auto-stop to kick in when all of the fluid has been pumped out.
You do need 4 AA batteries, and I like to keep some rechargeables on hand for mine.
Buyer's Guide To Fuel Caddies
Steel Vs. Plastic Fuel Caddies
Steel tends to be more durable, but it also creates a heavier caddy. They can also rust over an extended period of time.
Polyethylene tanks are lighter and don't corrode.
Both are great. In the rugged, fast-paced shop, a steel caddy is probably the best choice, where a polyethylene tank could be better where fuel needs to be transported over longer distances.
Safety
Gas is highly explosive, and diesel is quite flammable. You want a fuel caddy that is not going to leak or create accidental sparks that could start a fire.
Choose a gas caddy that is UL Approved. Both the tank and the pump will have separate UL Approvals.
This UL certification is an independent measure that verifies your tank meets safety and OSHA standards.
Furthermore, buy your tank from a well-respected brand that has an easy-to-reach customer service department. This helps to protect the longevity of your investment. The last thing you want to do is buy a cheap imported tool that breaks the first time you use it. Going with a reputable manufacturer helps ensure that you have the backend support you need to keep your caddy operating safely.
Capacity
There are two important considerations. The first is that you need the caddy to be large enough to handle the fuel that is in an average fuel tank. Most Trucks and SUVs have less than 30-gallon capacity. A 30- to 35-gallon fuel caddy will be large enough to get the job done.
The other note is that most fuel weighs about 6 pounds a gallon. You'll want a caddy with large wheels and a strong handle that will let you easily move nearly 200 pounds of fuel around when it is full.
Because of the weight consideration, some shops choose to go with two smaller caddies instead of one large one.
Pumping
You will want to get a two-way rotary pump. This transfer pump will allow you to siphon the fuel out of the vehicle's tank and then pump it from the caddy back into the vehicle tank when finished.
The other consideration with this is the transfer rate. You might look at the gallons per minute on the pump if speed is a concern. If you are doing a lot of this type of work, having a higher pumping rate will let you get more jobs done in less time.
Air operated pumps are found on the best caddies and can speed up this process.
Fuel Types
Most fuel caddies are colored-coded to ensure that you never cross-contaminate fuel. Red caddies are designed to hold gasoline, and yellow caddies are designed for diesel.
If you are working with E85 or E10 flex fuels, you'll want to make sure your caddy is rated for that. These high ethanol fuels are extremely corrosive.
Using a caddy for both types of fuel will lead to cross-contamination that can ruin the injectors on an engine.
Add A Filter
Vehicle fuel tanks tend to have sediment in them. When you pump the fuel out, you will pick up some of that sedimentation. Adding a filter can help you protect your pumps and keep you from putting that dirt back into a vehicle.
The fuel should be cleaner than when you started your project.
About Zachary Drumm
Hey! My name is Zachary Drumm! This site allows me to try these tools out, piddle around in the garage, and create fresh content for you. When it comes to tools, home improvement, and being a "shade tree mechanic," you've come to the right spot.