Fiber cement siding holds up much better, but its durability also makes it more difficult to work with. You need a good pair of fiber cement shears to get the job done faster.
While a lot of people use jigsaws with carbide blades or circular saws for cutting fiberboard, these saws create much more dust. Shears are safer, create less dust, and offer you the maximum control to help you get straight cuts.
You'll enjoy how these shears are quieter and cleaner, and will likely pay for them on your first job in the amount of time they save and the accuracy that they offer.
In this guide, we'll discuss some of the best shears on the market, as well as a few other popular options for cutting fiber cement.
The Best Fiber Cement Shears
Dewalt Cordless Fiber Cement Siding Shear DCS498B
If you like the looks of the Dewalt shear below, but want something more portable, this cordless model is one to consider. I'll be talking about some cool drill adapters and so forth below, but those other options can't handle the thicker fiber cement boards.
Capable of cutting up to a 5/8-inch board, it is more durable than some of the adapters that we talk about below. The ability to cut through Hardie Board that is over 1/2-inch thick comes in handy when you are installing boards for hanging tile.
As with all of these shears, this one creates very little dust. If you are working inside a client's house, they will appreciate your dust-free approach to getting the job done.
The design on this one is a little different from some of the competitors. It looks more like a reciprocating saw; however, it is lighter and much easier to use. It works well with a one-handed operation and gives you plenty of control.
The downside with this model is that you aren't going to get the tight cuts that you will get out of the Snapper Shears below. This one is good for cutting arches, but needs about a 7″ radius to make the cut.
So, for straight-line cuts on lap siding, these are great. As with all of these shears, this one is a nibbler, so you'll lose about 1/4-inch of material on the cut. That's standard for all of these tools.
For the tool only, I'm assuming you already have the 20v battery pack.
Dewalt D28605 Fiber Cement Siding Shear
These fiber cement shears have been one of the front line tools for professional siding installers.
At first glance, it seems like a lot of money for what appears to be a drill and a shear attachment.
However, when you dig into the specs, you realize that in spite of its unassuming appearance, this tool is designed for those intense workloads when you have to get the job done in the shortest time possible.
The motor is a 6.5 amp motor, which makes it about half as strong as a portable table saw motor. This makes it a little heavier than some tools while keeping it in the sweet spot of about 4-and-a-half pounds, where it is light enough to use all day without getting needlessly fatigued.
The RPMs on this tool are lower at 2500 RPMs, indicating a tool that has been geared down for maximum torque.
The patented shear design is something that you will find across multiple brands of tools. It is designed to "crunch" the brittle fiberboard material, making it especially suited for this work. However, these shears are much different than metal shears in that they don't close all the way and can only be used for working with concrete board.
Both the center and the side blades can be replaced with wear. However, you'll replace them less frequently than you would replace saw blades.
Backed by one of the best tool brands in America, this the one I'd want to have in my toolbox when I pulled up to start working on the job site.
Makita JS8000 Fiber Cement Shear
This one is very similar to the Dewalt model, albeit in that eye-catching teal color.
The larger handle on it is nice for a more balanced grip, and you can lock the variable speed trigger into the on position for when you are making longer cuts and don't want to hold the trigger down endlessly.
However, the specs on it are very similar to a 6.5 amp motor and the ability to cut up to 5/16-inches of thickness.
If you want to avoid permanent lung damage from too much dust, this nibbler is an excellent choice for getting the job done.
The drawback of this model is that the head is milled from aluminum instead of steel. While durability doesn't seem to be a concern, the head does seem to loosen over time.
Bullet Tools Siding Cutter
If you want to be able to do intricate cuts in cement backer board for tile work, this is not the tool for you.
However, we have a lot of readers who are looking for the best way to cut fiber cement siding. They want the fastest way, the straightest cuts, and the ability to complete their job in record time.
Enter the professional-grade siding cutter.
Now, this one is going to cost a little more, depending on how wide of siding that you are working with. But it makes the job so much easier. Simply measure your siding, slide it through, pull the lever, and move on to the next piece.
It is that simple.
Even better, this is a dust-free system.
With a little bit of practice, you'll be getting professional cuts on every try. You can also use this for cutting vinyl siding and laminate — something you cannot do with the other shears on this list.
Malco Turbo Shear Attachment TSF1
You've probably seen the Youtube videos demonstrating Malco's superior TurboShear product. With so many home DIY individuals wondering why they had to pay so much for a drill with a shear head, Malco steps up with the perfect tool.
This design attaches to any standard drill. Once the chuck is tightened in place, the metal bard comes down over the motor housing and is secured on.
Instantly, your drill is converted to a top-grade fiber cement shear.
This one is designed to work with cordless drills that are 14.4 v or larger. (Of course, it works with corded drills as well.).
The fact that it works with cordless drills makes it great for using while standing on scaffolding and making those last-minute adjustments. The lightweight design is also convenient when cutting out arches or other intricate work.
The wider skid plate on this one helps you keep it stable while it gets a better grip and "eats" a straight line through backer board up to 5/16″ inches thick. This puts this adapter on par with the other power tools on this list in terms of capability, thanks to the heat-treated carbon steel blade.
As with the Dewalt, both the blade and the skid plate are replaceable, making this tool one that every professional will love.
If you already own enough drills, simply buy this attachment, and you are ready to work with the cement board.
Pactool Snapper Shear Pro Drill Adapter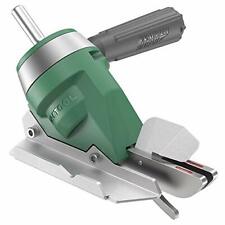 The Snapper Shear Pro from Pactool is the perfect answer for my readers who have a single job to do and who want to convert their drill into a pair of backer board fiber cement shears.
The design of this is so simple. You simply attach the drill to the rod, and it is ready to go. The smaller size makes it excellent for cutting circles as small as 3-inches in diameter, making them ideal for cutting around toilet drains.
There is a handle that is interchangeable with the left and the right-hand side so that it will work with any dexterity preferences.
It is recommended that your drill be at least 18-volts. The shears on this are a little smaller, so they work pretty well with cordless drills, by taking smaller, quicker bites.
These Snapper shears will cut material that is up to 1/4 of an inch thick.
If you want a cheap option that works with your current tools and is extremely reliable, this is the adapter that you need.
Conclusion
If I could afford both, I would buy the Bullet Tools Fiber Cement Siding Cutter and the Snapper Shear. This gives you the best of both worlds: that ability to make tight, circular cuts when you need to, with the fast, bulk cutting ability that the Bullet Tools offers.
However, if you lack a drill, the Dewalt seems like a solid option that will work well in your tool arsenal. Definitely my top pick over less well-known brands like Kett.
Buying Guide
Benefits Of Fiber Cement Shears
For those who can afford it, fiber cement siding is becoming the ultimate choice. As a more fire-resistant option, it is extremely popular in the west. It also offers more resistance to wind damage and insect problems.
It's uniquely durable construction allows the siding to last for up to 50 years, giving homeowners a never before seen level of longevity.
Using cement board shears offers several benefits:
Less silica dust as the shears does not grind the cement into a fine dust.
Straight cuts and excellent control for the user.
Quieter operation. The shear motor is smaller and quieter.
Less Cost both in tool price and replacement blades required out of specialized saws.
More flexibility for using while on scaffolding.
Works great on cement backing board like Hardie Backer.
Easier Clean-up due to less dust
Less tiring on the hands compared to hand snips.
Great for making curved cuts.
Corded Vs. Cordless Fiber Cement Shears
A corded shear gives you more power. This allows you to cut the fiber cement more quickly and with fewer hesitations. You get a consistent cut every time.
Cordless drills are now able to be used with a shear attachment. This comes in handy when working on ladders and scaffolding and allows you to move quickly through the job site.
Cutting Fiber Cement Board With Shears Vs. Saws
As mentioned previously, It is possible to cut backer board with a saw. You will want to wear aggressive respiratory protection to protect yourself from the flying silica dust, and it would be wise to have a good dust collection system.
The dust is hard on a standard circular saw as it gets inside the bearings and destroys them. You will want to invest in a masonry saw that has sealed bearings. These saws cost significantly more than the shears do. Unless you are doing a lot of masonry work, it makes more sense to just invest in a pair of shears.
About Zachary Drumm
Hey! My name is Zachary Drumm! This site allows me to try these tools out, piddle around in the garage, and create fresh content for you. When it comes to tools, home improvement, and being a "shade tree mechanic," you've come to the right spot.