You just bought your first home and are so excited. Now, you are mowing your own lawn.
But wait.
The neighbor's lawn looks better. There are fewer weeds. The grass is more uniform.
Something must be done! You need the right fertilizer and the best broadcast spreader for quickly applying it to your lawn.
Cheap fertilizer spreaders are everywhere if you only need one to last for part of one season. But if you want a lightweight unit that is designed to last year after year, this list will help you find the right type of spreader for your lawn.
Best Cheap Fertilizer Spreaders
Scotts Turf Builder Edgeguard Mini Broadcast Spreader
The Mini Broadcast Spreader is a proven design that has been refined over many generations of use. With the Turf Builder, you get larger wheels. This provides better leverage for the broadcast mechanism and allows it to roll smoothly over the dips and holes in your yard.
There are bigger units out there, but this mini spreader is big enough for most houses. It can hold a 12-pound bag of seed or fertilizer, which is more than enough for fertilizing 5,000 square feet of lawn. Even for the largest yards, this will limit how many times you need to stop and refill the hopper.
The biggest selling point of the Turf Builder is the knob setting for determining how heavy the broadcast output should be. Since Scotts is such a dominant brand in the industry, most of the competing fertilizers use this knob setting as the standard for determining the rate of spread.
The other big selling point is the Edgeguard technology that allows you to stop the spread of seed on the right-hand side of the spreader. This makes it perfect for protecting sidewalks and keeping the seed and fertilizer from being wasted on those surfaces.
You want to be very careful if you are also going to use this for ice melt. Ice melt can destroy your lawn in a hurry, so be sure to rinse the unit well (And away from your grass) after the winter season and before adding fertilizer and seed.
There are more robust units available for the lawn care professional who is going to use it regularly. But for the homeowner, this handy spreader is hard to beat and pleasingly sturdy for the price.
My only concern (if you can call it that) is that mine would occasionally try to clog. I would just grab the hopper and shake it from side-to-side to get the material shifted. As a result, I typically only filled mine halfway to make sure I could shake it down.
Summary: It's affordable and well-built for the average American lawn. Bigger lawns will find it to be lightweight for sustained use.
Scotts Turf Builder Classic Drop Spreader
One of the big things with all of these broadcast spreaders is that sometimes they deliver material where you don't want it. You don't want to throw grass seeds into your flower beds. Nor do you want to throw salt on your lawn.
A drop spreader is a perfect answer to this problem. It drops the seed directly down. This means that you get accurate coverage right where you need it. Simply walk it along the path where you need to deliver the seed or fertilizer and have no fear about erroneous coverage.
These are slower to use for a large lawn, so they are typically used in conjunction with a traditional lawn spreader. Simply do the edges and narrow areas with this drop spreader, and then come back and do the middle with the broadcast spreader.
For the homeowner or lawn care professional with the highest standards, this drop spreader delivers the precision you are looking for.
Best Heavy-Duty Residential Fertilizer Spreader
The Earthway 2150 might well be the best fertilizer spreader on the market. You can tell right away from the pneumatic lawn tires that this isn't your average lawn tool.
The aired up tires roll nicely on any lawn surface. This is especially handy when you are working with it fully loaded with 50 pounds of lawn fertilizer or grass seed. This spreader is going to maneuver quickly and smoothly and allow you to quickly get the yard done before moving on to your next job.
This spreader is designed to not only get the job done quickly but to be able to adjust to any medium or material. Pest control companies love this device for spreading lawn insecticide, and road crews use it for spreading ice melt on sidewalks.
The Earthway 2150 is going to throw between 8 to 10 feet. Your lighter materials aren't going to spread as far as something like Rock salt will. Keep in mind that you will go through your material pretty quickly with a 10-foot pattern. You'll be getting twice the amount of work as the Scott spreader would.
Keeping with the themes of efficiency and the commercial-grade, you are going to appreciate the additional screens that prevent clogging and the better bearings that are designed to hold up to thousands of pounds of use.
The epoxy-coated metal is an excellent choice to protect the machine against the harsh winter environment of rock salt and grim, while still looking pristine year after year during your summer work.
Backed by a five-year warranty, these guys need an award for customer service. We were able to reach a representative with no hold time in under a minute. It's this kind of customer service that I love to receive before I buy a product.
Summary: Extremely well-built and designed for fast work for those with large lawns.
Best Commercial Heavy-Duty Spreaders
Chapin 82080
The price tag on this one is going to scare a lot of shoppers away, but for those of us who need the most serious push broadcast spreader on the market, this is going to be the one to give serious consideration.
You'll notice that it is rated for 80 pounds of lawn products. This large capacity means that you can load it up at the start of the week and not have to worry about it refilling it until a few days in.
When you are manoeuvering that much weight through the customer's lawn, you need something that is going to be well-balanced. This one is perfectly balanced, and the over-sized pneumatic tires give you 12 inches of supportive width, which helps to distribute the load so that it doesn't leave deep track marks in the grass.
The Chapin also has a pregreased, all-metal enclosed gearbox. As long as you don't have your new guy trying to powerwash all the greases out of it, this system is going to last for years without maintenance. The all stainless steel frame also makes this one a better choice for a long winter season of spreading ice melt.
This one hits an excellent happy medium in the spread pattern with 10-12 feet of spread. That is going to put you at a wider spread than the Scotts model. If you needed to spray in a narrow space between two houses, you could cheat through there by walking more slowly, or just use a drop spreader.
Summary: You pay more for a one-piece, heavy-duty poly hopper, all-metal gearing, wider tires, and an aggressive yet workable spread pattern. Unless you have a huge yard, this one is going to be best reserved for our commercial users.
Brinly Commercial Spreader
The Brinly is another amazing tool that looks a lot like the Earthway design above for providing accurate coverage over large areas.
With these models, you know that you can't go wrong with the large capacity bucket-styled hoppers. The massive agitators are designed to distribute the material quickly and evenly. As with the Chapin model, this one uses an 8 to 12-foot spread pattern. This range is the perfect distance for quick delivery while still being practical for all residential purposes. This one also has a directional spread pattern that lets you choose a right spread, left spread, or center.
Chapin is based in New York and has an easy-to-reach customer service line. When I called in to get some clarification on their specs, we reached a representative in under 3 minutes after a brief hold.
Best Hand-Held Spreaders
Scotts Whirl Handheld Fertilizer
The handheld broadcast spreaders might be one of the most cursed items in homeowner history. While they are affordable and work well, they are pretty cumbersome to use.
To begin with, you are going to load it up with a decent little bit of weight and then hold it at arm's length while you crank the little handle. It's just an awkward setup.
Where Scott's is much better than any of the other models is that it has a nice little forearm rest. The forearm rest helps to provide added support, which makes the entire apparatus feel much more comfortable than the other ones I've used.
It's not ideal, but I've managed to spread a quarter-acre with both insecticide and with fertilizer with one of these. It doesn't take that long; it just isn't as relaxing as loading up the walk-behind model and mindlessly walking around the yard.
The need to frequently refill it is another one of my frustrations.
Summary: As far as handheld spreaders go for small areas, this is one of the best you could look at.
Scotts Wizz Hand-Held Spreader
One of the awkward things about the hand-cranked spreader is that it is awkward to hold it out at arm's length and to still crank it over and over with that stubby little handle.
Scott had the genius idea just to add a battery pack and a motor. No more of this one-armed bandit stuff. Now you can load it up with seed or fertilizer and distribute it immediately with the push of a button.
The challenge with these little spreaders is how easily they get clogged. With the whirl model, you get feedback from the crank to know when it isn't feeding right. You can give it a couple of shakes and get it going again.
With the battery-powered model, you don't get that feedback, and it just gums up all the time.
The other thing that I like about the hand-crank model is that I don't have to charge anything or look for batteries. I only run mine for a few minutes every few months, so having a manual model is a nice feature, so that I don't lose time getting the batteries ready to go.
It's a great idea, and for some users with small lawns, it is going to be a dream come true. However, I prefer the hand crank model.
Best Tow-Behind Spreader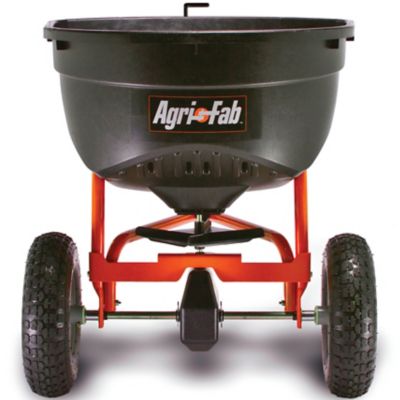 There are a lot of great tow-behind options. Growing up in a family who didn't always have the right tools for the job, we'd often use a little spreader like one of these to reseed our field for hay. Those were long days, but when you have a few teenage boys, a little spreader, and a mower, you can get it done.
The Agri-Fab 45-046 Tow Behind Spreader is one of the best on the market. It connects to any riding lawn mower with a drop-pin hookup and can be loaded with up to 130 pounds of material. The lever to begin spreading is conveniently placed within reach of the operator, so you won't have to get out of the mower seat to turn on the spreader.
The enclosed gears are driven by two oversized, pneumatic tires that deliver reliable power for a consistent spreading pattern even for uneven lawns.
This product is assembled in the USA and is backed by a three-year warranty. While I wouldn't anticipate your running into many issues with this model, it is nice to have the extra support.
Best Mounted Spreaders
Solo 421
This spreader is a dramatically different model, and not one that you see discussed as much online.
For those of us who need to spread fertilizer in rough terrain where a wheeled spreader is not going to work well, this chest-mounted spreader is a life-saver.
There are a lot of similarly-designed spreaders on the market, but in my opinion, this one is better built and is going to provide more carefree use.
Carrying all of this weight on your chest isn't as much fun as using a wheeled spreader. However, for those one-off scenarios, this one gets in those hard-to-reach places. It is an excellent supplement to the commercial spreaders already discussed on this page for working in those narrower places.
Receiver Mounted Spreader
For those of you looking to reseed fields, these receiver hitch spreaders mean serious business. Perfect for putting on your ATV, these spreaders are designed as feed plot seeders for preparing a field for livestock or for creating hunting plots for deer.
You are going to need to connect this one to your ATV battery to activate the 12 volt motor for spreading it.
While the electric motor and rear mount design are nice, it seems like most users only choose this for their remote feed plots and stick with the pull-behind spreaders for more residential uses.
Don't forget that when you load this down with seed, it is going to change how your ATV handles. Follow manufacturer guidelines to stay safe.
Buyer's Guide – What To Look For In A Spreader
Durability
When you are spending more than a few dollars on your yard tools, you want to make sure that it is designed to last.
Scotts consistently ranks near the top, thanks to their brand recognition. You have the peace of mind that they are a big company who will be around to honor their warranties.
However, in the commercial line, we see some strong competition from Agri-Fab, Chapin, Brinly, and Earthway. With many of these companies are offering solid warranties, and US-based customer service, you almost can't go wrong.
Additionally, many of our readers are shopping for a spreader that they can use with ice melt. While something like the Scott will work, it isn't going to offer the stainless steel frame and rustproof design of something like the Chapin.
Spread
The spread of the device is important as it dictates how long it will take you to fertilize a lawn. A 5-foot spread is very manageable, even if it requires you to make more passes.
A larger spread is going to reduce the number of passes you need to do dramatically.
Hopper Capacity
When you begin using a spreader for the first time, you'll be amazed at how quickly it goes through the seed.
If you are doing a large yard, you are going to want a large enough hopper to complete the task with a minimum number of refills. Thankfully, most yards in the United States are under 8,000 square feet (10,000 square feet is a large yard).
In most cases, 12 pounds will do about 5,000 square feet. So a 50-pound hopper will allow you to deliver lawn products to about 25,000 square feet (or about 3-4 lawns).
When working with heavier weights, you want to make sure that you have a high-quality hopper and frame so that it doesn't suddenly collapse from the weight in the middle of the lawn. These models seem to have the sturdiness to withstand the desired rating.
How To Keep Your Fertilizer From Rusting
For the best care, don't forget to empty your spreader and rinse after each use. The fine dust that clings to the spreader helps to collect moisture and can lead to rusting problems.
When rinsing it off, don't spray water directly into the gearboxes as that can flush out the lubrication. Just rinse out the hopper and the outside.
Then, I like to apply something like WD-40 to all of the moving parts. The Water Displacement features will help to make sure that there is no water in those places, and you get that little bit of lubrication for added peace of mind.